Skip to product information
For a special discount on bulk orders, email sales@cetrixinc.com
Overview

With HEPA+HEGA Filters to Arrest Most Bacteria and Viruses
The Austin Air Allergy Machine HM405 helps those with allergies or asthma looking for optimized removal of particulates and gaseous pollutants, including VOCs. Built with over 60 sq. ft of True HEPA filter media, the Austin Air Allergy Machine air purifier also incorporates an advanced military-grade HEGA carbon cloth to absorb a high level of smoke, odors, gases, fumes, and other VOCs. Significantly improves air quality in medium to large-size rooms, and is recommended in households with heavy smoke or VOCs. Long-life HEPA saves on filter replacements.
Outstanding Features
Made in the USA
HEPA filtration helps reduce exposure to particulates that cause an allergic reaction or respiratory distress
HEGA filtration, using advanced military-grade carbon cloth, reduces odors, gases, fumes, chemical vapors, and VOCs
Processes 250 cubic feet of air every minute
high-velocity airflow (100-400 cfm)
Superior Filtration ‐ Particles, Viruses, Microbes, Germs, Gases, Odors, and VOCs
Designed for Performance
Solid built
Saves energy 
Ease of Use and Low Maintenance
Filters last five years
Who should consider the Allergy Machine®?
Those exposed to biologics such as viruses and bacteria
Individuals living in damp environments
Asthmatic Children
Health Benefits
Reduces the viral load to minimize the risk of infection or severity of disease
Lessens night-time allergies and asthma attacks
Strengthens the immune system
Eases coughing, wheezing, and sneezing
Reduces dry mouth and runny nose
Sounder sleep
Reduced snoring
 Why is the Allergy Machine® the best choice for me?
Designed for immediate filtration of allergens
Medical Grade HEPA effectively removes 95% of airborne viruses that are 0.1 microns and larger
HEGA carbon cloth also removes viruses, bacteria, chemicals, and gases from the air
High capacity filtration for the removal of allergens from the air
Designed for relief of sneezing, coughing, and stuffy noses caused by every day or seasonal allergies.
*Covid-19 is a new strain of virus that as yet, remains untested. However, the Medical Grade HEPA technology used in our filters is proven to remove up to 95% of all airborne contaminants as small as 0.1 microns.
** HEGA filter, invented by UK military for filtering chemical, biological as well as nuclear agents.
Technical Specifications
The Allergy Machine® provides relief for those suffering from asthma or everyday and seasonal allergies by removing sub-micron particles such as pollens and dust mites as well as chemicals and noxious gases. Austin Air's 360-degree intake system draws air into all sides of the Allergy Machine®, passing it through a 4-stage filter.
The result? In a third-party study, results showed fewer emergency room visits for asthma and allergy sufferers.
Unit Specifications 
Area Covered & Clean Air Changes:

1500 sq. ft. (1 air change per hour)
875 sq. ft. (2 air changes per hour)
600 sq. ft. (3 air changes per hour)
465 sq. ft. (4 air changes per hour)
375 sq. ft. (5 air changes per hour)
315 sq. ft. (6 air changes per hour)

Dimensions: 14.5″L x 14.5″W x 23″H
Weight: 29 lbs.
360° Perforated steel intake housing
Baked on powder coat paint finish
3 speed centrifugal Fan
High efficiency motor rated for continuous use at high RPM
CSA approved
Filter Specifications 
STAGE 1 – Large Particle Pre-filter. Removes particles easily seen by the naked eye (e.g. dust, hair, and pet dander)
STAGE 2 – Medium Particle Pre-filter. Removes small to medium size particles (e.g. molds, spores, and pollen)
STAGE 3 – 60 sq. ft. of True Medical Grade HEPA. Removes 99.97% of all particles larger than 0.3 microns and 95% of all particles larger than 0.1 microns.
STAGE 4 – Military-Grade HEGA Carbon Cloth. HEGA (High-Efficiency Gas Arrestance), providing an extremely large surface area for the adsorption of chemicals, gases, viruses, and bacteria.
Replacement filter for Austin Air Allergy Machine®.
All replacement filters have up to a 5-year life expectancy.
The Austin Air Allergy Machine® Filter integrates HEGA technology, originally developed by the military to protect against a wide variety of chemical, biological and nuclear agents. The HEPA filters 99.97% of all particles down to 0.3 microns in size and 95% of all particles down to 0.1 microns.
Warranty
Our Commitment to You;
Backed by the best warranty in the industry, you can take pleasure in knowing you've made a sound investment with your Austin Air cleaner.
30-Day, No-Questions-Asked, Money-Back Guarantee
In the unlikely event that you're not completely satisfied with your Austin Air cleaner, return it within 30-days, no-questions-asked.
5-Year Mechanical Warranty
Your Austin Air cleaner is warranted to be free from defects in material and workmanship for a period of 5-years from the date of purchase; provided your Austin air purifier was operated under normal residential use and that you have completed and returned your warranty registration to Austin Air Systems.
5-Year Pro-rated Filter Warranty
Austin Air offers a 5-year pro-rated filter warranty, by far the most comprehensive in the industry. No more costly filter replacements every few months or years. Austin Air filters are designed to last for an unprecedented 5-years, under normal residential use.
 References
Download Datasheet Air Quality

Chosen by the US Govt. Odor Gasses Guide
Battelle Report Filter Change Guide
Videos

Regular price
$765.00 USD
Regular price
Sale price
$765.00 USD
Unit price
per
Sale
Sold out
Free Shipping
Share
View full details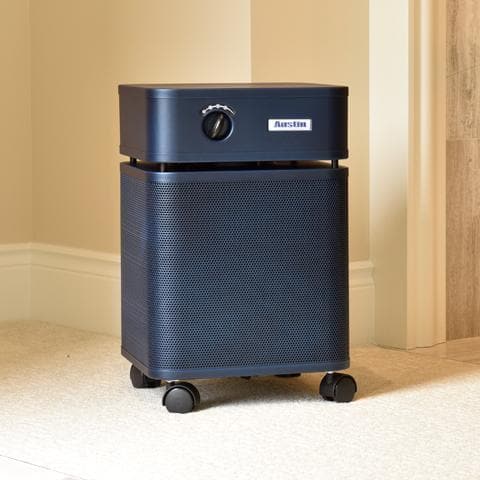 Collapsible content
Free shipping within the USA for orders more than $100 Complimentary ground shipping within 1 to 7 business days In-store collection available within 1 to 7 business days Next-day and Express delivery options also available See the delivery FAQs for details on shipping methods, costs and delivery times
Shipping

Free shipping within the USA for orders more than $100 Complimentary ground shipping within 1 to 7 business days In-store collection available within 1 to 7 business days Next-day and Express delivery options also available See the delivery FAQs for details on shipping methods, costs and delivery times